1st December 2000 – Landing in Kathmandu
A new month and a new world. Wow.
Landing in Kathmandu and looking at the lights, I could tell it was a type of city I had never known. Scattered, flickering orange lighting across the dark valley, the occasional naked flame. The airport is tiny.
We met a nice guy from the Netherlands who had just come through China for a few months and was about to go back to Europe overland via the Silk Road. He was about 35 and a financial advisor back home. He had a positive outlook on everything, but couldn't understand why we wanted to spend so much time in the USA.
Out of the airport, a hundred or more taxi drivers / hotel people were all yelling at us - 'Do you want guesthouse??!!'. There was one guy in the moshpit holding a sign with 'Tibet Guesthouse – Bradley Schultz' on it. Booking ahead was a good move.
Getting in the taxi, before we knew it, a TINY little boy had grabbed our bags and loaded them in. His bigger friend (still a tiny boy) said 'Hong Kong Dollar?' repeatedly and hassled us until the taxi drove off. We were too far out of our comfort zone to pay them. The driver and hotel guy thought it was pretty funny.
The ride to the hotel was crazy – nothing can prepare you for Kathmandu if you've never been to a third world city before. You can picture it in your mind, watch it on tv, but you just can't comprehend what you will experience. The driver spent more time beeping his horn than not. People gathered around fires in the gutter of the dirty, steep, bumpy streets… I can't express why, but it shook me up a bit.
We have a great room in the guesthouse – US$16 a night with 2 single beds and bathroom.

We're in Nepal!!!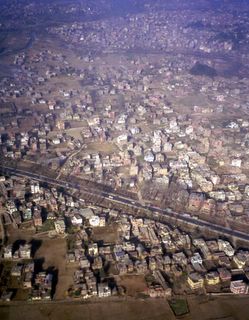 Kathmandu outskirts